Hostel Oia is a new concept in the hospitality sector of ​​Santorini. Hostel Oia combines hospitality and accommodation with elegant Cycladic architecture at very affordable prices.
Hostel Oia is located in Santorini, in the picturesque village of Oia with its magnificent sunset. Its unique architecture, picturesque churches, marble streets and incredible views of the caldera create an extremely beautiful landscape and a magnificent atmosphere.
The guest house is ideally located right in the central square of Oia, next to the bus station. Hostel Oia in Santorini, is the ideal choice for young or older people as well as for groups of friends, who want to stay on the island, in a completely friendly environment.
Hostel Oia, was envisioned and created to welcome visitors to the island of Santorini to experience a new trend in the hospitality area, which will make the summer holidays unforgettable.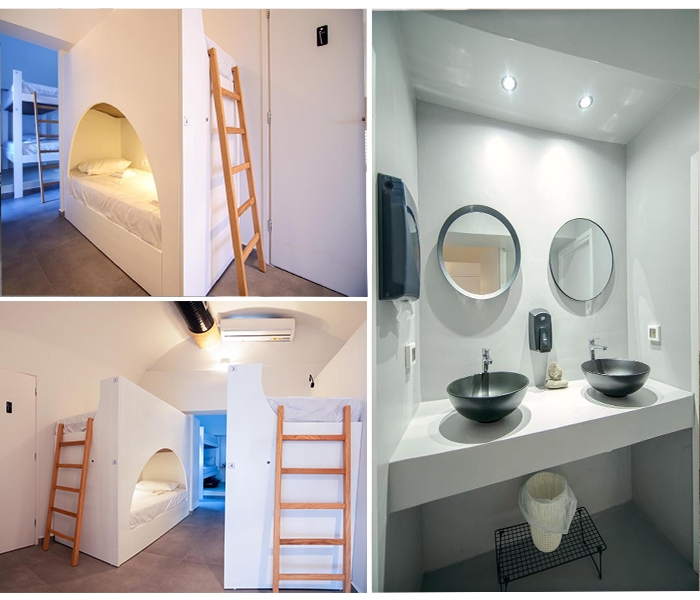 Oia is probably the most famous and picturesque village of Santorini. Most of the sunset photos are taken from the castle of Oia, the most popular sunset-viewing spot on the island. The architecture of Oia stands out for its combination of impressive mansions and the traditional cave houses carved into the caldera cliff. Take a stroll in the alleys of the village to admire the breath-taking caldera views, do some shopping in the fashionable stores, have a coffee or enjoy traditional dishes at the restaurants, follow the steps leading to Ammoudi bay to discover one of the most beautiful hidden gems of Santorini, discover the nearby wineries and beaches. In Oia you will find the Naval Museum of the island.